Leveraging our expertise and technologies we are able to identify the most suitable solutions to meet each customer's printing needs.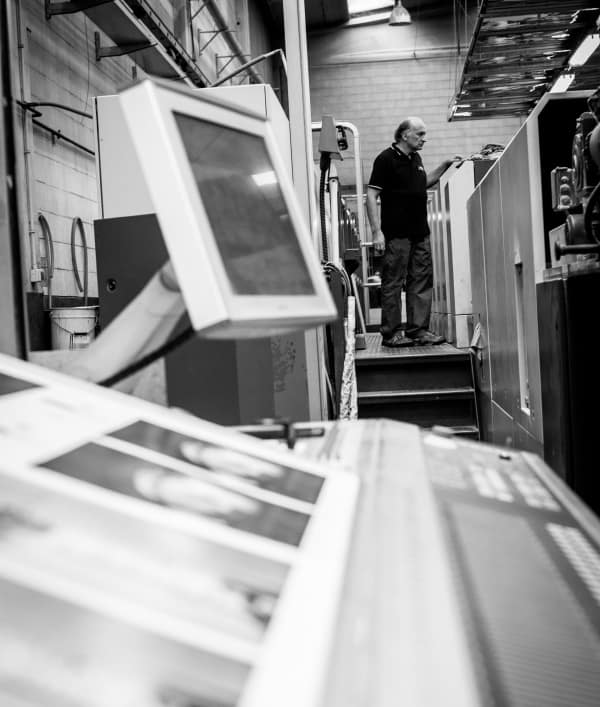 Quality for high volume runs
Our fleet of machines allows us to print up to 5 colours in-line with varnish output. We print on two KBAs: this allows us to guarantee maximum quality and competitiveness. We print on all types of paper, from handmade paper to single and double sided cardboard, including all the new green, recycled and low environmental impact papers. The range of paper density on which we can print is wide in order to be able to offer the customer a variety of operations. Our offset printing machines in the 50×70 and 100×140 formats are able to print brochures, books, catalogues, magazines, forms, leaflets and flyers.
In addition, we handle in-house premium work such as hot foil stamping, dry embossing, lamination, screen printing, restricted spot varnishing, die-cutting, stapling, paperback, wire-o, singer wire and hand packaging.

Our flagship Xerox® Iridesse® is a is a 4,5 and 6-colour printer, with extra stations for dry inks in addition to the standard 4 stations for CMYK, ensuring a high visual impact of your printouts. The innovative technology of this machine also allows us to print with special inks like white, transparent, silver, gold and fluorescent pink. Brilliant colours and a glossy effect for high-quality results. The printouts acquire a touch of personality that will satisfy even the most demanding customers. This exclusive technology also optimises the printer for faster turnaround times. The exceptional quality, high productivity, colour accuracy .of all prints and printing speed of Iridesse® are comparable to those of an Offset press, allowing us to be faster in processing jobs and more competitive even for short runs.
The packaging of an object is its business card and has the power to determine its success. We can turn your ideas into reality, creating impactful packaging that helps each product stand out. We help you in the design and realisation of the packaging, and in the choice of any finishing touches that will make your product more precious. We produce packaging for every sector, from accessories to cosmetics, from pharmaceutical to food.
We print posters, banners and advertising products. Large format printing is the right choice for visibility and recognition in outdoor communication. High quality and fast production allow us to quickly decorate and embellish trade fair stands, offices and events.
We print different thicknesses supports and on a wide range of materials: Plexiglass®, aluminium, corrugated sheet, cardboard, and Laminil®. Printing quality contributes to the creation of valuable products.
We like to see ourselves as partners to our customers, always looking for the best solutions to achieve a common goal!
Graphic and layout services
Gadget and promotional items
We use cutting-edge machineries in order to be able to follow all processes from A to Z, optimising production time and costs.
● KBA Rapida: offset 5 colours printing + varnish and oven 70×100 format
● KBA Rapida: offset 5 colours printing + varnish and oven 140×100 format
● Heidelberg GTO – SORM
● Heidelberg Platina
● Automatic die cutter 70×100
● Die cutter 50×70
● Laminating machine 70×100
● Bonelli and Stahl folding machines
● Horizon Staple packaging machines
● Horizon binding machine
● Xerox Versant 3100 (digital printing)
● Xerox Iridesse (HD premium digital printing)
● Mimaki Drum and Flat-bed plotters
● KBA Rapida: offset 5 colours printing + varnish and oven 70×100 format
● KBA Rapida: offset 5 colours printing + varnish and oven 140×100 format
● Heidelberg GTO – SORM
● Heidelberg Platina
● Automatic die cutter 70×100
● Die cutter 50×70
● Laminating machine 70×100
● Bonelli and Stahl folding machines
● Horizon Staple packaging machines
● Horizon binding machine
● Xerox Versant 3100 (digital printing)
● Xerox Iridesse (HD premium digital printing)
● Mimaki Drum and Flat-bed plotters